Launch EU-WOP project DJI'I TIAMAN in Mali
27 April 2022
This week, the team in Mali celebrated the official launch of the DJI'I TIAMAN project. The project is part of the EU-WOP Programme, an initiative, funded by the European Union and managed by UN-Habitat led GWOPA.
Twenty-two Water Operators' Partnerships (WOPs) have been selected from over 140 proposals received under the EU-WOP Programme. The Programme is now underway, and the three-year long WOP projects, involving partner utilities from all over the world have started implementation in early 2022. Find out more about the 22 EU-WOP Projects.
Water Operators' Partnerships (WOPs) are peer-support partnerships between water and sanitation service providers. WOPs work by harnessing skills, knowledge and goodwill within a
utility to build the capacity and improve the performance of another utility that needs assistance or guidance.
Source:
GWOPA
.
Meet the consortium
The DJI'I TIAMAN consortium consists of World Waternet – affiliated to the Amsterdam water cycle company Waternet, SOMAGEP – the Malian water supply company, SOMAPEP – the Malian water asset holder, and ONEE – the Moroccan national office for electricity and drinking water. The foundations of the collaboration between all partners lie in earlier work done and strongly builds on previous experience, trust and relationships between peer-colleagues.
ONEE is a welcomed co-mentor in this collaboration and is well-known for its 'Institute International de l'Eau et Assainissement', a renowned training institute in the water sector in Africa. The Head of ONEE's R&D Department, Mokhtar Jaait said: "South-South cooperation is most important in the water and sanitation utilities sector. The world cannot succeed in achieving SDG 6 without operators sharing and learning using the WOPs approach".

What are the objectives of DJI'I TIAMAN?
The DJI'I TIAMAN project focuses on activities around monitoring and reducing non-revenue water (NRW) in three cities in Mali: Sikasso, Koutiala and Kati. By reducing NRW levels in these cities, more water remains in the distribution system and will benefits actual and new customers. Water pressure and availability increase, especially for the end-of-pipe users. The reduction of NRW will also increase income of SOMAGEP and improve its financial situation.
This specific objective aligns fully with the objectives of the existing WaterWorX project in Mali. This project started in 2017 and is a long-term Dutch Government-funded partnership between World Waternet and SOMAGEP. Within this project, several activities, including a pilot project were executed around monitoring and reducing NRW levels in the Faso Kanu neighbourhood in Bamako, the capital city of Mali. Learnings and successes will be expanded to Sikasso, Koutiala and Kati.
Part of the grant is reserved to assist SOMAPEP in finding co-funding for large scale infrastructural investments. In recent years, 72 secondary towns were added to SOMAPEP's and SOMAGEP's service area, causing the increased need for large investments to rehabilitate and expand water infrastructure.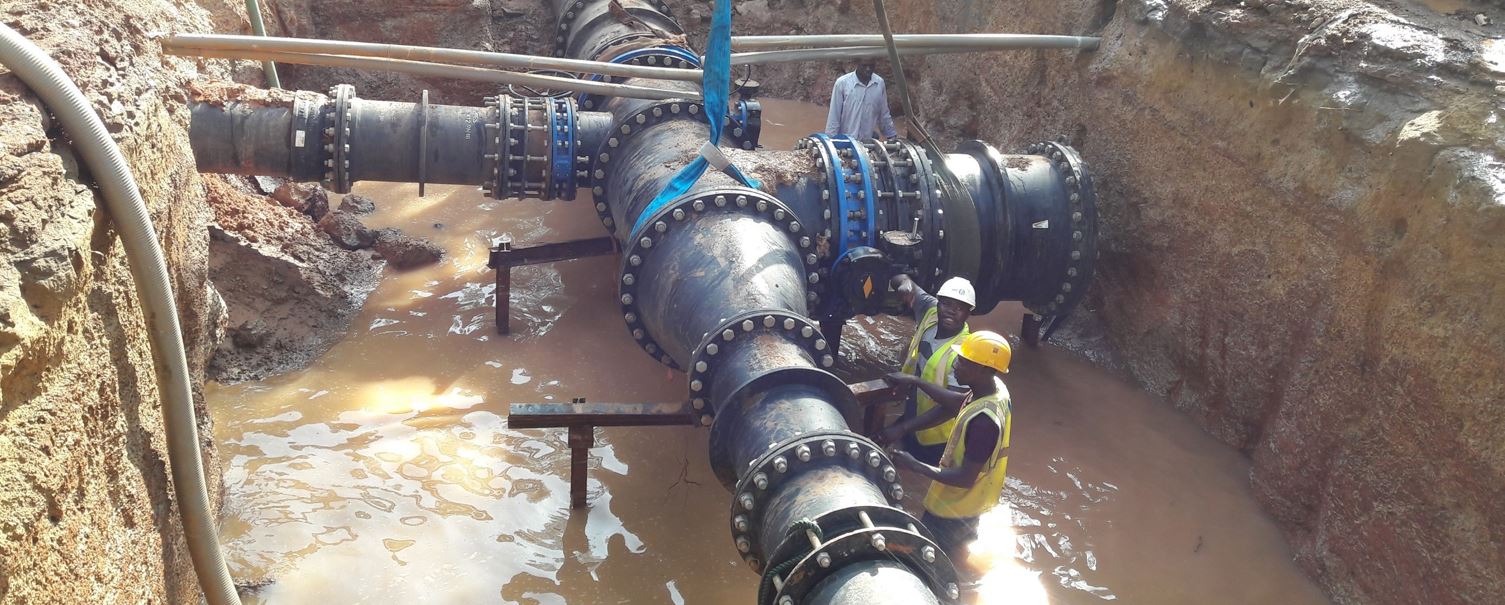 During the 9th World Water Forum in Dakar, where the consortium showcased their project, SOMAPEP's General Director, Bakary Coulibaly said: "WOPs support investor confidence, helping operators access needed water investments".
Official launch
in Bamako, Mali
On 27 April 2022, the official launch was opened by the Director General of SOMAGEP, Dramane Coulibaly. The session continued with a speech by Director General of SOMAPEP Bakary Coulibaly and followed with words of acknowledgement by Silvia Severi, head of cooperation EU Delegation to Mali. She said: "WOPs are becoming more important to the EU".

Left: Director General SOMAGEP Dramane Coulibaly and Director General SOMAPEP Bakary Coulibaly. Right: Silvia Severi, Head of Cooperation EU Delegation to Mali, with Koen Maathuis, World Waternet Regional Manager West Africa, and Moumouni Damango from the Embassy of the Kingdom of the Netherlands in Mali.
Koen Maathuis said: "Djii Tiaman is a wonderful example of how our WOP functions. It taps into a strong, existing partnership and uses the lessons and experiences from previous project activities to create more direct impact on topics relevant for our partners".
The launch continued with a presentation on the results of the WaterWorX project regarding NRW, by Aboubacar Diallo, and was ended with a presentation by SOMAGEP's Head of Distribution and NRW, Souleymane Sow, on the EU-WOP Programme and the objectives of DJI'I TIAMAN.