What we do
World Waternet supports public water organisations through peer-to-peer knowledge exchange in water cycle management. We do this through long-term

Water Operators' Partnerships

with water organisations in more than 15 co
untries in Africa, Asia and South America to st
rengthen capacity, improve performance and enable them to provide a better service to more people
.

In addition, we exchange knowledge
with leading water organisations in our
Knowledge Partnerships. We aim to intensify

exchange and collaboration on topics related to Waternet's six (6) Research & Innovation topics; climate adaptation, energy transition, water quality & technology, circular economy, soil subsidence, and data & sensoring.
This allows us to tackle the same challenges together.
Sustainable Development Goals
We are fully committed to the Sustainable Development Goals () (SDGs) of the United Nations. Local water and sanitation service providers are key to the SDGs. Through our partnerships with local water and sanitation service providers, we contribute to the following SDG's.

Water Operators' Partnerships
Water Operators' Partnerships are peer-support partnerships between water organisations. World Waternet partners with other public water organisations to improve the operational performance in water cycle management. Within our partnerships, we fully embrace and work by GWOPA's Guiding WOP principles (). What makes our partnerships unique: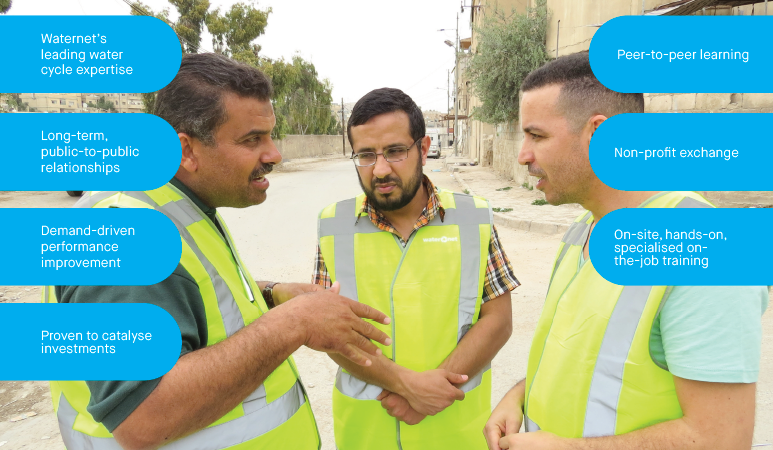 Operational Excellence of water organisations
Efficient and effective water organisations are key actors in the frontline to face global water challenges. Operational excellence of water organisations in the watercycle depends on the four critical success factors that we focus on in our partnerships.