Project
Eau, Clé du Développement Durable (Burkina Faso)
Strengthen the capacity of Burkina Faso's regional water authorities and local water authorites for improved water resource management.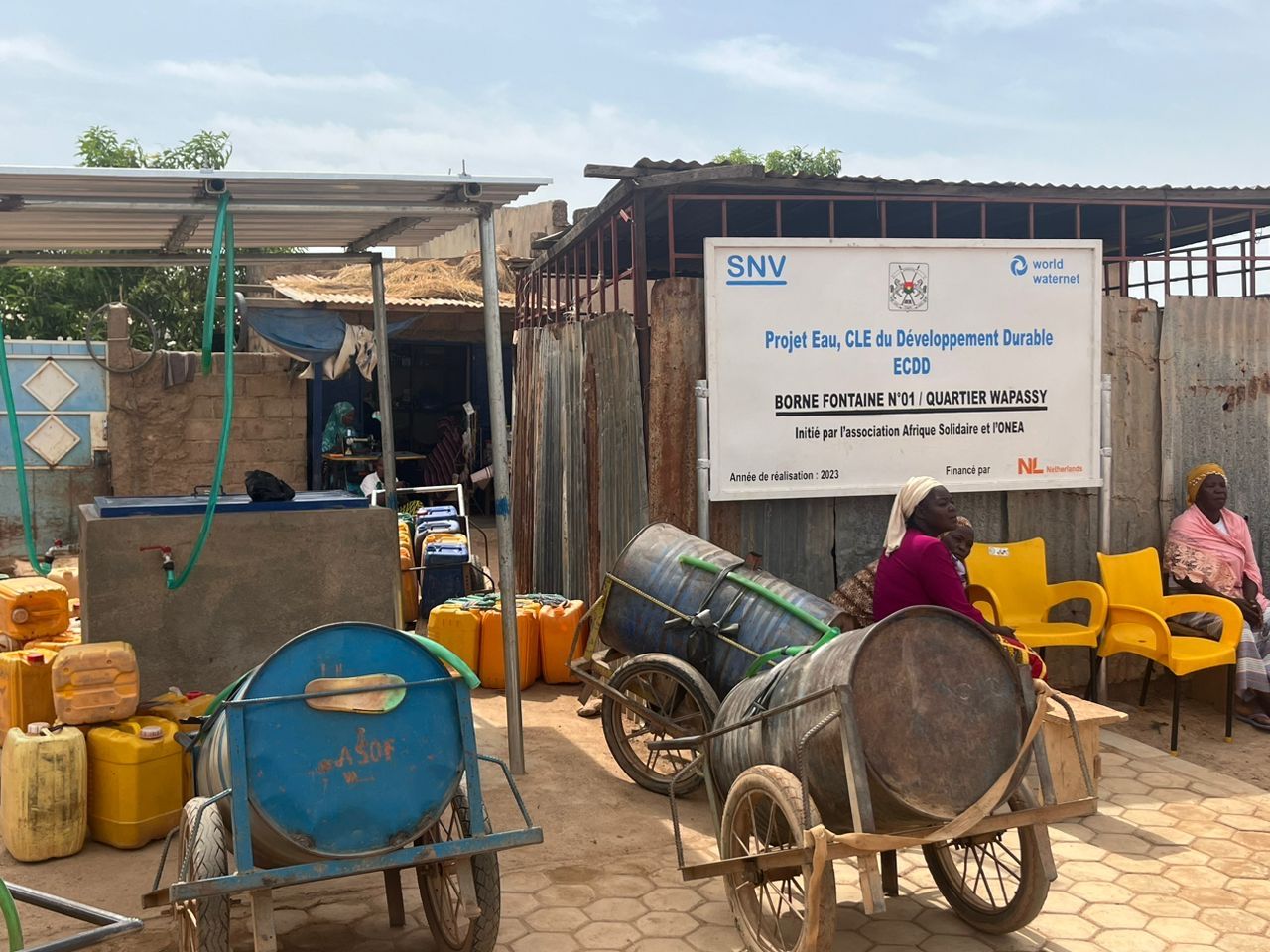 Region


Burkina Faso

Period

1/12/2020 - 30/11/2024


Budget


€12.5M (€5.5M from WWN)





Financier

Embassy of the Kingdom of the Netherlands in Burkina Faso (EKN-OUA)
World Waternet (WWN)


Objective

Improvement of integrated water resources management through strengthening intermediate responsible institutions (Water Agencies and Local Water Committees)
Restoring the quality of the soil and its ability to hold water in specific areas
Increasing and diversifying rural families' agricultural stocks and incomes
Improvement of basic access to drinking water, hygiene, and sanitation for both rural and urban families in the targeted areas:

Make basic access to drinking water more fair and long-lasting in provincial and regional capitals of the areas being targeted
Improving access to drinking water, hygiene, and sanitation in rural places so that everyone has fair and long-term access



Recipients

17 Comités Locaux de l'Eau (CLEs)
5 Agences de l'Eau (AEs)



Partners

SNV (lead partner)
Association Faso Koom
4 Dutch regional water authorities
Background
Burkina Faso is one of the many nations in Africa that possesses a progressive institutional water governance framework and has developed a number of useful innovations in the decentralized management of water resources. Burkina Faso is also one of the many countries in Africa that has a progressive institutional water governance framework. The effects of climate change, together with population increase and development, call for further strengthening of decentralized water, sanitation, and hygiene (WASH) service delivery, governance frameworks, and delivery systems. This can be accomplished through integrated water resource management (IWRM) and solutions that are based on nature. In addition to supporting further actions, these activities will direct investments in sustainable WASH services and water systems.
Activities
The project is implemented in close collaboration with five Water Agencies in Burkina Faso (Agences de l'Eau) and 17 Local Water Committees (CLEs) and direct impact WASH services and water systems. Together, SNV and World Waternet/Association Faso Koom strengthen the capacity of the water agencies and the CLEs to carry out infrastructural measures. Enhanced capacity for WASH are complemented by applying sustainable investment technologies and approaches in soil and water conservation, drinking water supply, sanitation and hygiene services, and small holder agriculture practices for potential upscaling.
Results
Early 2022, a large water infrastructure program was implemented of this project is largely done by local project staff. Many kilometers and hectares of anti-erosion measures, such as hedges, reforestation, and sand traps.


Drinking water supply for approximately 40,000 residents, and dozens of trainings on Intergrated Water Resources Management have been conducted in 2022.


Five fountains have recently been built in Ouagadougou's Bouassa and Wapassi neighborhoods, which are located in the city's 7th arrondissement. This initiative seeks to address the health concerns that have been brought about as a result of unsanitary water and a lack of sanitation.



A reforestation project was conducted in the village of Dani, specifically on the left bank of the Yacouta Dam. The initiative involved planting 5,550 plants, including 1,150 fruit trees, within a fenced area spanning 4 hectares. A team of 50 individuals, including 18 women, participated in the reforestation effort. The project aims to protect the area from sand encroachment and mitigate evaporation caused by wind, thereby ensuring the preservation of this valuable resource in the face of climate change.

In Burkina Faso, soil contamination has resulted from mining activities, particularly in the Nimbrogo region near the town of Ziou. To address this issue, the 'Phytoremediation' technology has been implemented. Using Chrysopogon zizanioides, this plant-based method aims to extract and remove heavy metals such as mercury and cyanide from the soil, providing an eco-friendly, low-maintenance, and cost-effective solution to environmental contamination.



The city of Kaya has been selected for the implementation of a potable water supply as part of a larger effort to improve the quality of decentralized water, sanitation, and hygiene (WASH) service delivery. This is because of the large number of people who have been forcibly relocated there. Five water fountains will be built, and three production wells will be connected for the benefit of ONEA (National Office for Water and Sanitation).

In the commune of Cassou, 18000 fertilizer trees are being grown in nurseries alongside local farmers. The purpose of this initiative is to help farmers take advantage of soil fertilization, carbon reduction, and animal fodder provided by these trees.



A total of 2500 plants for the realization of living hedge and 250 fruit trees were planted by the local water agency of Gourma on the dam of Salogo-Mobeiga.