Official launch of pre-paid water (ATMs) kiosks in Tanzania: Connecting the Disconnected
05 October 2022
On 15 August, the first pre-paid water (ATM) kiosk was officially launched in Tanzania! MORUWASA and World Waternet jointly developed a solution to provide affordable and clean water to those who do not have a household connection. The pre-paid kiosk has a sustainable revenue model and reduces non-revenue water that offers MORUWASA a steady income to maintain the water kiosks far into the future.
Limited access to water
In Morogoro, a medium-sized town in the eastern part of Tanzania, only 50% of the population is connected to the water network of Morogoro Water Supply and Sanitation Authority (MORUWASA). People are therefore often dependent on expensive water from private water vendors, or they use of contaminated surface water sources, with numerous risks to human health. In addition, the traditional public water tap points are facing high levels of non-revenue water, up to 40 %. Non-revenue water is the amount of water put into a tap point or distribution system but lost or unaccounted for, due to leakages, illegal taps/connections or non-payment. On top of that, as in many countries, Tanzania faces huge water shortages due to climate change, which requires water companies to limiting water services.
A Water Operators' Partnership to improve water supply
Since 2017, World Waternet and MORUWASA are collaborating in a Water Operators' Partnership (WOP), with the aim to improve access to clean and safe water for all (SDG 6). This WOP is part of the WaterWorX programme, funded by the Dutch Ministry of Foreign Affairs. MORUWASA has 177 public water points to ensure water supply in certain neighborhoods and remote areas. Based on a field survey (2020) it was concluded that over time, it has not been possible to keep them operational due to lack of funding for operation and maintenance. It showed that out of 103 visited water points, only 39 were still working. An intervention was needed to ensure the sustainability of the tap points and the reduction of non-revenue water.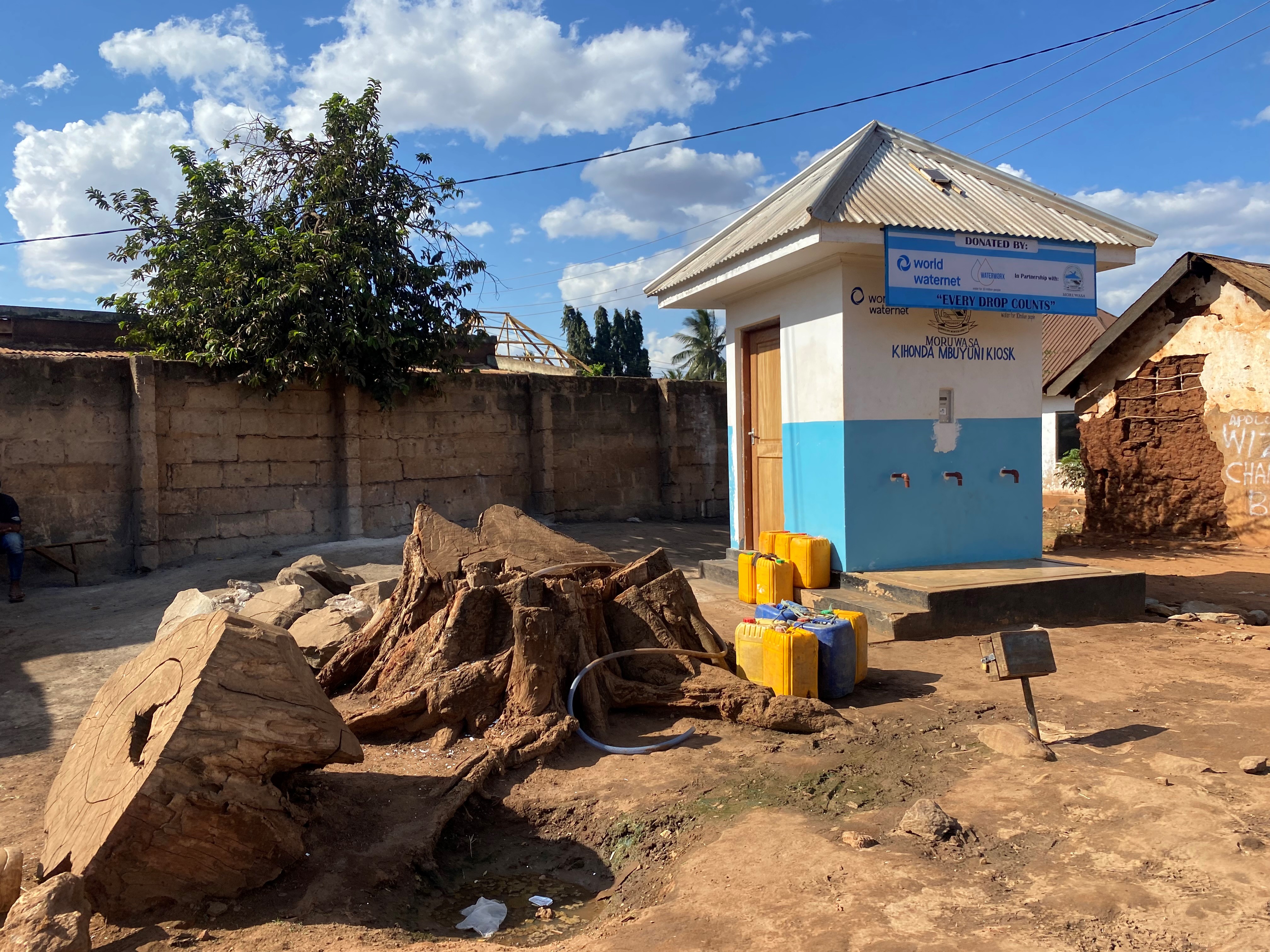 Rehabilitated water kiosk in Kihonda Mbuyuni (Morogoro)
Pre-paid solar-powered water (ATM) kiosks
World Waternet and MORUWASA formed the idea to provide 10 pilot pre-paid water kiosks or water ATMs. These kiosks have a solar powered payment system. This reliable payment system works with 'tokens'. Users can buy water credits at MORUWASA and can subsequently pay for the exact amount of water they tap, which is most of the time cheaper than the water bought from public vendors. In addition, the users in local communities gain access to affordable and save water. At the same time, MORUWASA gets a steady income to sustainably operate and maintain these water kiosks with less NRW. Consequently, MORUWASA can expand its services: a win-win situation for everyone involved. As part of the WOP between World Waternet and MORUWASA, ten existing non-functioning water points have been rehabilitated and equipped with the solar-based pre-paid token system. Nine of these ATMs are intended for domestic use, and one for large water vendors that sell water in other areas. In this pilot project MORUWASA's technicians and plumbers are trained on maintenance, leakage repair, and using the proper safety equipment. Not only for the water kiosks but also for the water distribution network. Waternet's Drinking Water Department is working on a number of instruction videos to ensure sound maintenance in the future.
Furthermore, a GIS application has been developed for registration of the MORUWASA network and for reporting leakages. All data will be incorporated in GIS for better management and decision-making.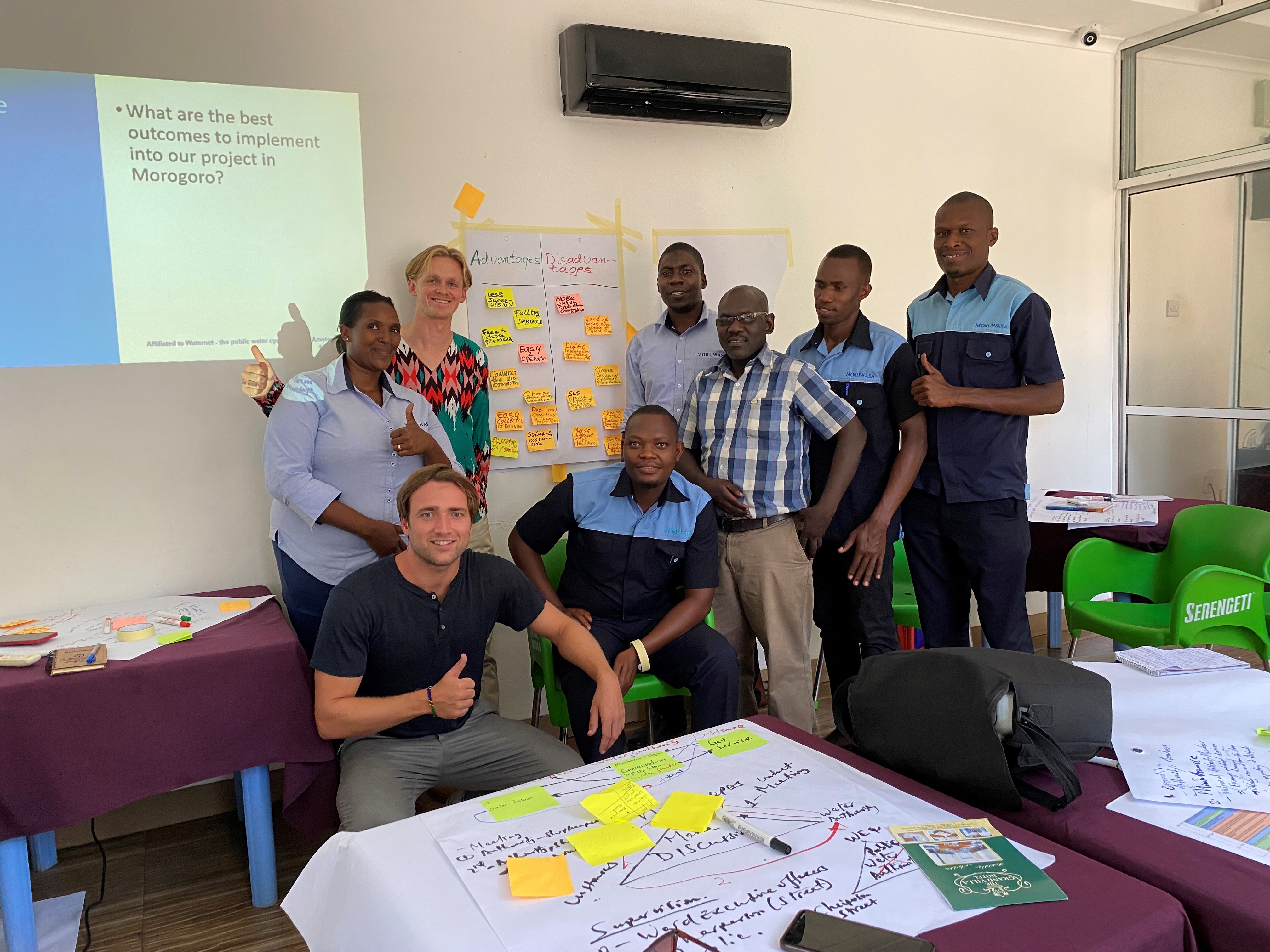 Water -and Sustainability experts Kaj Callenbach for implementing pre-paid water ATMs (bottom left) and Bram Berkelmans (upper left) for implementing off-grid water pumps with the MORUWASA team of plumbers during the Maintenance Training
The official launch
August 15th was a long-awaited day: the official launch of the first rehabilitated water kiosk! The village chief, Mr. Abdallah Meya, was present during the event to hand over the tokens to the users. All users have access to cheaper, safer and cleaner water, whenever they desire.
Project manager Annemarie Weijenberg (Waternet), project manager Emmanual Kamate (MORUWASA) and the district commissioner Albert G. Msando cut the ribbon to officially hand-over the water kiosks to the village chief of Mazimbu, Mr. Abdallah Meya
The event generated a great deal of interest, it was even broadcasted on national TV!
Next steps
The water ATM pilot will run for another year to test the effectiveness and the functioning. When there are positive results, another 30 water kiosks will be installed during phase two of the WaterWorX programme. The Agence Francaise de Developpement Bank (AFD) has already shown interest in funding these additional units and possibly more. On top of that, MORUWASA and World Waternet are working on installing two off-grid water kiosks equipped with an ultra-filtration system, for areas without standpipes that use surface water. These solar-based water kiosks are pumping, filtering and distributing water with the same pre-paid payment system. All of these actions will contribute to the ultimate goal: Connecting the Disconnected!