Arab Youth Green Voices inspire COP 27
27 November 2022
From 6 - 18 November 2022, the 27th session of the Conference of the Parties to the UNFCCC (COP27) was held in Sharm El-Sheikh (Egypt). The event provided the opportunity for all stakeholders to rise to the occasion and tackle the global challenge of climate change. Yet future generations are rarely involved in climate change debates. The Arab Youth Green Voices made sure that Arab youth could play an active part in discussions about climate change in their region.
Youth is often considered as victims, but young people are not only victims of climate change, they are also valuable contributors to climate action. They are agents of change, entrepreneurs and innovators. Whether through education, science or technology, young people are scaling up their efforts and using their skills to accelerate climate change mitigation. Time to listen to their voices!
Arab Youth Green Voices
Eleven young professionals shortlisted for the "Arab Youth Green Voices" challenge. Held by the Arab Renaissance for Democracy and Development (ARDD), in partnership with RNW Media, the event, which is part of the Green Voices Project, is funded by the Embassy of the Netherlands in Jordan. In addition, two youths represented the Young Expert Program (YEP). All of the participants met in the Sharm AL-Sheikh and started their journey. By sharing stories about their initiatives, they were raising awareness on the role of youth regarding the reduction of the impact of climate change. One of the participants was Loay Alatrash, a former participant of YEP and now Project Coordinator for the Palestinian Territories at World Waternet.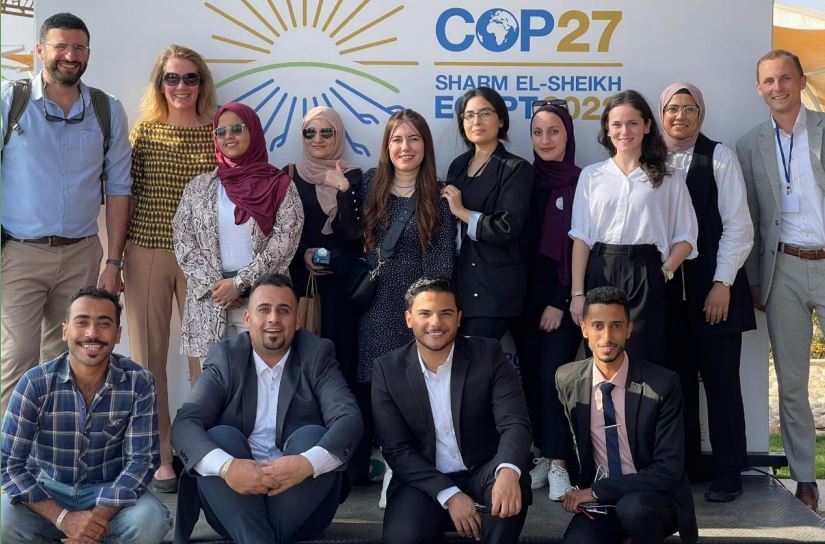 The group of selected participants of the Arab Green Voices
Inspiring examples
The involvement of the Arab Youth Green Voices gave them the opportunity to share their personal stories about how climate change is affecting their countries. But more importantly, they inspired by demonstrating their solutions, which are often new, innovative and out-of-the-box. A few examples:
In the Palestinian Territories, people are faced with extreme water scarcity due to a huge decline in rainfall and rise in temperature. They presentated the case where wastewater treatment plants, that fully operate by solar energy, treat wastewater and produce good quality effluent that can be reused for agriculture and recharge the aquifer. Which reduces the demand on the drinking water and diminishes droughts.
Lebanon is struggling with immense amounts of solid waste. To deal with that, young professionals came up with two solutions. Firstly, food waste is fermented and turned into compost for agriculture. Secondly, they use food waste to produce coal.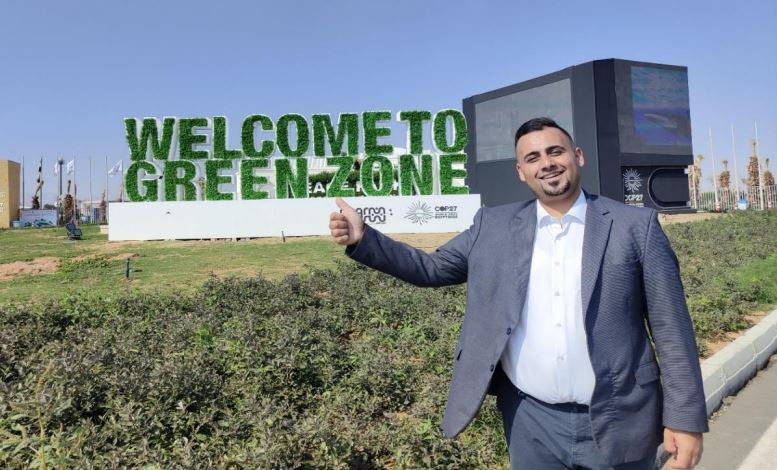 Loay Alatrash at the 'Green Zone' of the COP27
The group looks back on a succesful event where they were able to represent millions of youths in the MENA region. After all, as stressed by Loay: "one young person will not make a difference, but a group of young people will make an impact!"