Water Authority Amstel, Gooi & Vecht, World Waternet, Lek/Habo and Stichting De Leeuw Kyiv join forces for power supply in Ukraine
22 December 2022
Over the past few weeks, staff from water authority Amstel, Gooi & Vecht (AGV), World Waternet, and partner organisation Lek/Habo made a small step towards recovering the power supply in Ukraine. They made sure that a diesel generator, that was no longer being used by AGV, will be donated to Stichting De Leeuw Kyiv. This foundation will make sure that the generator is granted a second life in Ukraine. The recipient will be the water utility of the port city of Mykolajiv. Currently, the people of Mykolajiv do not have access to clean drinking water due to attacks on the water infrastructure in April.
The sharp eye of René Nuij
The initiative was taken by René Nuij, Wastewater Specialist at the wastewater treatment plant of Mijdrecht. As former Operations Manager of the region of Utrecht, René has a good overview of all the assets in that area. In preparation of the millennium late 1999, many assets were charted, as people feared that computer systems might shut down during the turn of the year. Due to this inventory, the Water System Department decided to purchase a diesel generator to use for the pumping stations in case of a power cut.
After a while, the diesel generator was no longer allowed to be used due to enhanced requirements and was stored at the warehouse in Weesperkarspel. René recognised the container during a tour he was provided by the Warehouse Manager. René saw an opportunity: "I just saw on the news that there is a major shortage of generators in Ukraine. For me, this was a typical case of 1+1=2. Wouldn't it be a huge waste if we got rid of a generator here, while people in Ukraine are suffering from the cold?". And so the initiative was born. A few phone calls later other colleagues joined and Stichting De Leeuw Kyiv agreed to transport the generator to its final destination in Ukraine.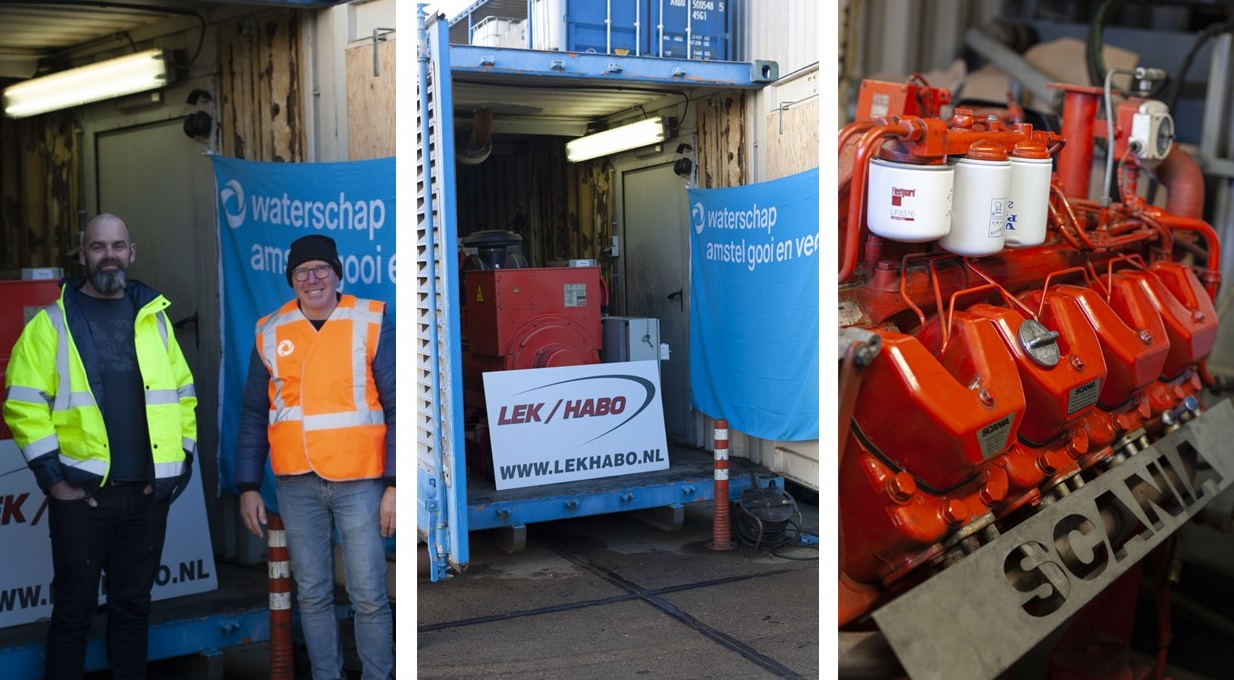 Combined forces for quality
After, the quality of the generator needed to secured. After a few rounds of testing by Waternet staff, partner organisation Lek/Habo volunteered to carry out a final maintenance. After office hours, Waternet staff tested all features and approached organisations to get their hands on some free spare parts. On the terrain of Lek/Habo, the generator was fully being prepared for use.
The right step forward
The diesel generator will be collected by Stichting De Leeuw Kyiv this week. This foundation has close contacts with the water utility in Mykolajiv. They will take care of transportation. The capacity of the generator fits in well with their water system. Eventually two generators are needed to pump up water from the River Dnepr to the water treatment plant. With this endeavor, AGV contributes to half of the required power supply.
We would like to thank our colleagues from AGV (Lisanne Drost, Annemarie Biebericher) and World Waternet (Frodo van Oostveen, Marieke van Nood en Joost Verbart) for supporting the coordination of this initiative!