26 March 2018
Dutch National Government and Dutch Water Authorities cooperatively contribute to good water management worldwide
Twenty million people in forty catchment areas worldwide that are better protected against water and have access to sufficient, clean water. That is the ambitious goal of the Blue Deal that the Ministries of Foreign Affairs, Infrastructure and Water Management and the Dutch water authorities are closing today. Together they will use even more water expertise internationally.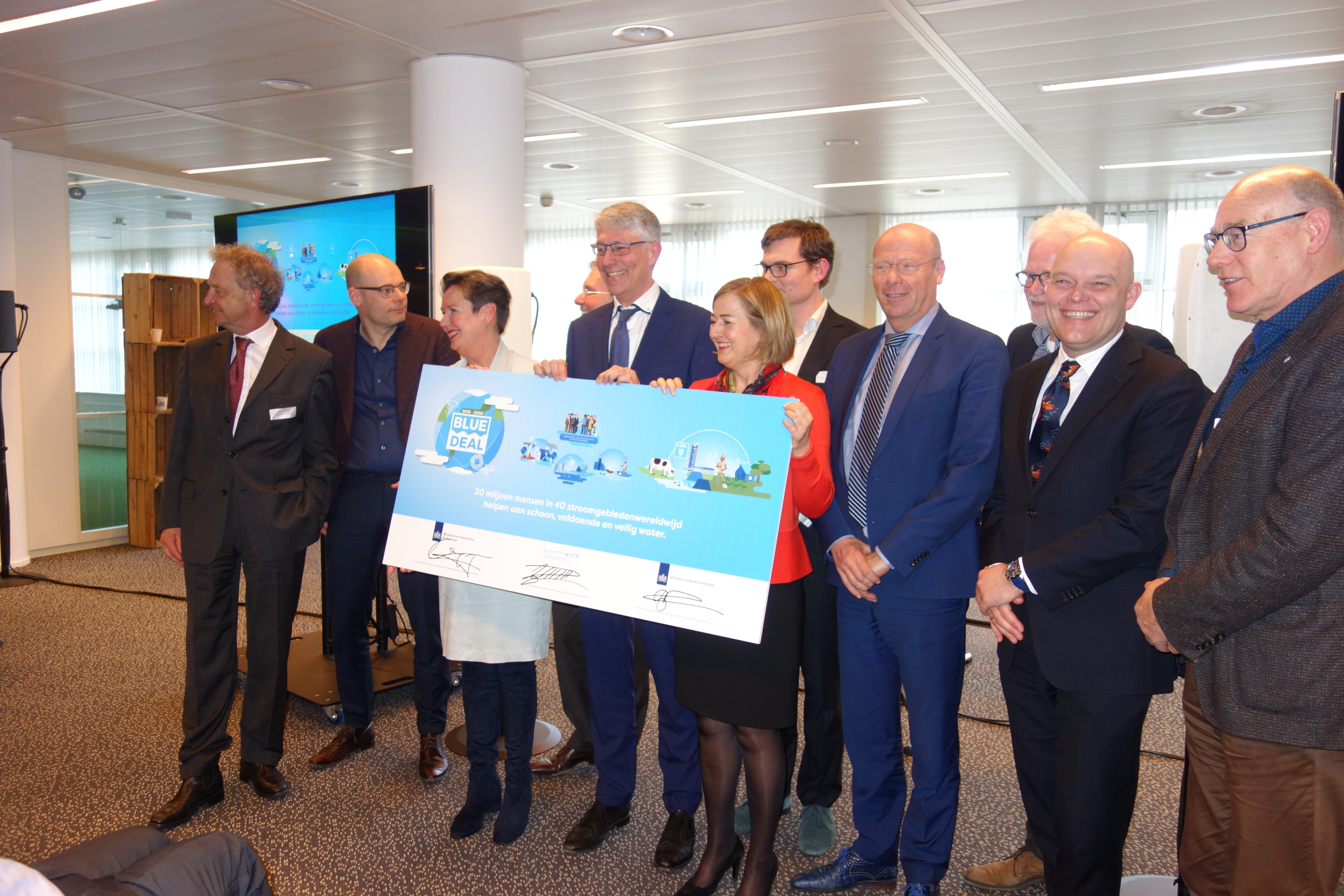 The ministries and Dutch Water Authorities already exchange knowledge internationally, but by working together more intensively, more can be achieved. The Blue Deal is a program that allows long-term partnerships between water managers in the Netherlands and abroad. These partnerships work on clean, sufficient and safe water with 2030 as a horizon.
Over the past decades, water-related disasters have increasingly occurred. Hurricanes, downpours and rising sea levels lead to flooding. Drought and water shortages undermine millions of families in their livelihoods and make some areas unliveable. This creates unrest, threatens peace and security and stimulates migration. In the international context, water is therefore an important subject on the policy agenda. This offers opportunities for development aid and trade for the Netherlands as a land of water by excellence.
A long-term collaboration: the Blue Deal
Steven van Rossum, CEO World Waternet: Today, on World Water Day, we achieved something amazing. The Dutch water authorities and Ministries will join forces in different regions all over the world. We don't want to be a mere drop in the ocean, but substantially contribute to a safer, cleaner and healthier world. And at the same time, we can learn from each other. And with that knowledge improve Dutch water management as well.
Sigrid Kaag, Minister for Foreign Trade and Development: "The Sustainable Development Goals have a 2030 horizon. This long term is necessary to realize the ambitious SDG agenda. For me it is important that the Blue Deal has that same horizon. No separate projects, but long-term partnerships, continuity. Impact on 20 million people who are better protected against flooding, have access to water - for example for irrigation - or whose wastewater is better purified; I hope for that."
Hein Pieper, vice-chairman Dutch Water Authorities: "With the Blue Deal, the projects of the ministries and Dutch Water Authorities have a greater impact in countries that have challenges in the field of water management. If you start with water, you can prevent many problems. Water and food security belong together, as does water shortages and climate refugees."
Cora van Nieuwenhuizen, Minister of Infrastructure and Water Management: "Worldwide we see an increase in water-related problems. There is therefore a great need for knowledge and expertise on how we can solve these problems structurally and in a sustainable way. I expect the Netherlands to contribute effectively with the Blue Deal to improving water safety and water security in the world. In addition, I also see opportunities for the Dutch private sector. Many countries approach the Netherlands for our expertise to solve problems with water. With this Blue Deal, Dutch Water Authorities and companies in the water sector can more easily cross the border with their knowledge."
Launching event Blue Deal
The launch of the cooperation between the ministries and Dutch Water Authorities will take place on World Water Day on 22 March at the AquaForAll network meeting and at the Holland Pavillion at the World Water Forum Brasilia.