A salinization approach for the benefit of drinking water supply and agriculture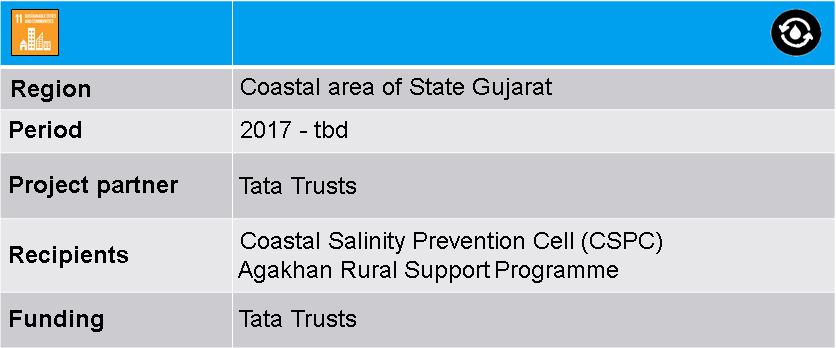 Background
For many years, solutions to resolve the salinization of water resources are researched in order to better ensure drinking water supply and irrigation in the coastal area of Gujarat. Soil salinity is partly caused by the gradual withdrawal of the ocean, but also by overexploitation of groundwater and inefficient use of water resources. Surface water is hardly available, therefore the people of Gujarat fully rely on fresh groundwater resources. The salinization of water resources causes great stress for the agriculture sector, where water is needed for irrigation. Moreover, salinization can also cause public health issues over time.
Our impact
Our activities ultimately benefit the inhabitants and agriculture sector of the coastal area of Gujarat. Our partner in this project is Tata Trusts.
Activities
Optimizing the poorly functioning water purification installation and technical training of staff
Advice on sanitation service improvements and rainwater collection in Chingeria
Workshop on sustainable solutions to improve salinization issues in the coastal area of Gujarat
Obtained results
Field visits and desk research by Dutch and Indian students as part of the Wetskills programme which was organised in 2017. Advice was given on drinking water supply, sanitation and irrigation.
Draft of workshops on technical solutions for resolving salinization issues and on institutional changes within water management.