Turning organic waste and feces into energy and fertilizer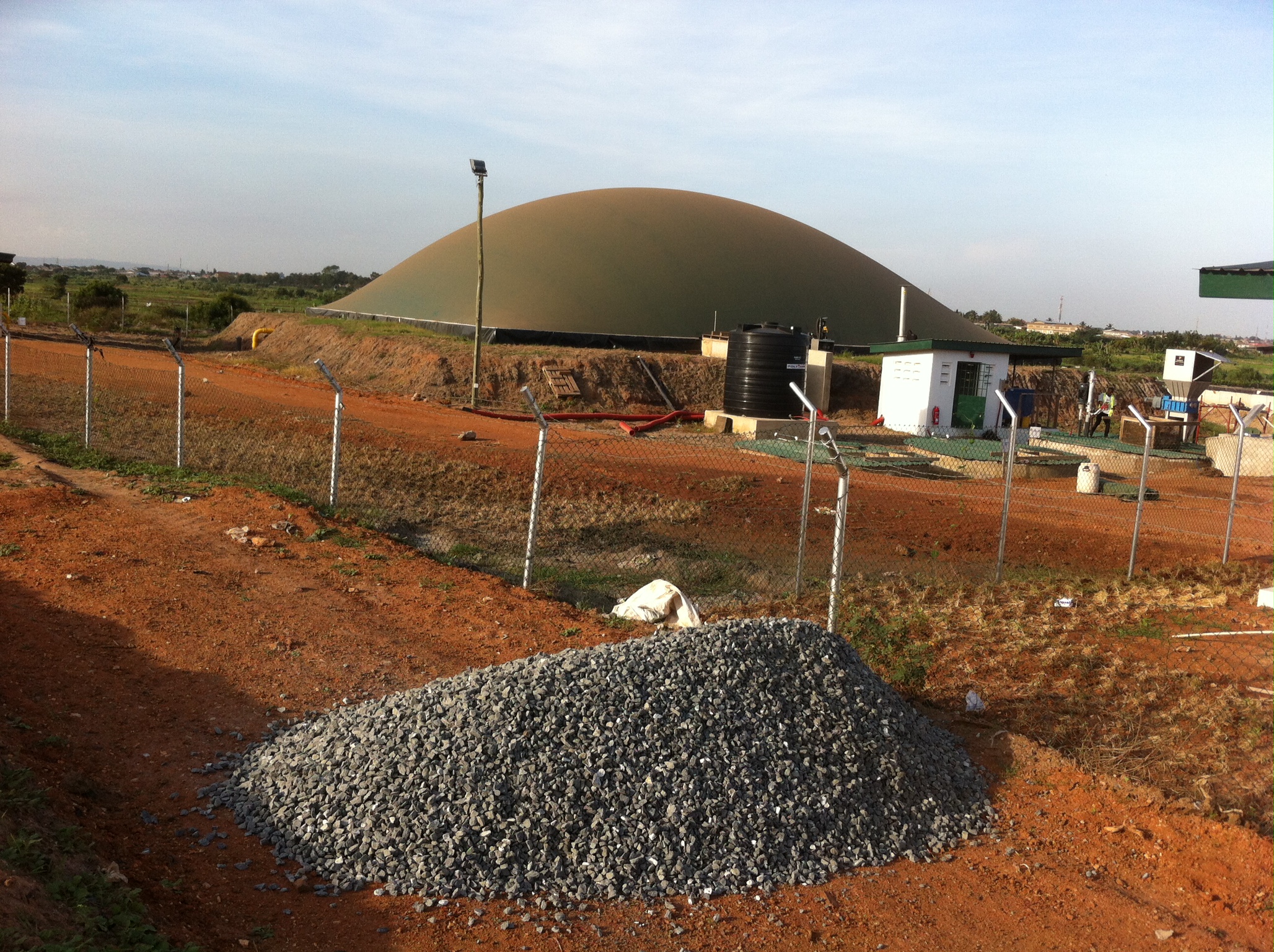 | | |
| --- | --- |
| Region | Greater Accra Region (Ashaiman) |
| Period | 2015-2018 |
| Project partners | Waterproef |
| Recipients | Safisana Ghana |
| Funding | Netherlands Enterprise Agency (RVO) |
Background
Recycling of materials has not yet been implemented in Ghana. Moreover, sanitation is a big problem in Ghana, with many Ghanaians having no access to sanitation. The biodigester, installed in Ashaiman by SafiSana Ghana, offers a solution for both recycling and sanitation.
Organic waste from markets, abattoirs and feces from septic tanks of community toiltes are mixed in the right volumes to produce biogas. Electricity is produced out of the biogas is sold to the national electricity grid. The sludge is deposited at drying beds for a week or two, after which it is mixed with market waste and sawdust. Covered by plastic, the temperature rises to over 70 degrees after which it is sold as organic fertilizer. The revenue generated by the sale of organic fertilizer and the electricity are expected to ultimately cover the operational costs.
Our impact
World Waternet supports SafiSana Ghana to operate and maintain the biodigester in an optimal way. This is important, as costs are covered by the sale of the electricity and fertilizer is produces. Due to better sanitation services, the living conditions of the inhabitants of Ashaiman are improved. This increases safety and prevents diseases due to improved hygienic circumstances.
Activities
During the design phase, World Waternet delivered input on the setup of the plant, the digester and the layout of the compound. We cooperated with Waterproef in order to set up the laboratory of the plant. Technicians of Safi Sana were trained to operate and maintain the plant. World Waternet and Waterproef designed and delivered equipment for the laboratory. The lab-staff was trained in the use of the equipment and the necessary analyses. World Waternet assisted in the implementation of the Standard Operating Procedures (SOP) for the lab and the plant.
Results
As the subsidy of the Sustainable Water Fund ended in October 2017, the direct involvement of World Waternet has also come to an end. Safi Sana Ghana is now operating the plant and the laboratory independently. World Waternet is still available for support, on request. World Waternet is looking for opportunities to replicate this innovative and sustainable waste-to-energy model elsewhere in Ghana.