Koen@Bamako #15
Saying Goodbye to West-Africa
15 June 2022
Koen Maathuis works for World Waternet as Regional Manager for West Africa. He lives in Bamako, Mali and writes blogs about his experiences. Read about the continuation of the WaterWorX project, our partnerships with SOMAGEP, the Malian drinking water supply organisation, and ANGESEM, the Malian waste water organisation, and the unstable political situation.
This is my 15th and final blog. As of next week, I no longer work as Regional Manager for World Waternet and will return to the Netherlands. But not before I share with you the latest developments in West-Africa!
Phytoremediation in Burkina's gold mining sector
In the ECDD-Project (l'Eau, Cle de Development Durable), World Waternet and SNV partner with the Agences de l'Eau in Burkina Faso to improve availability and access to safe water sources. Soil and water conservation techniques are important to reach this goal. The ECDD project has recently started an activity to clean the effluent water of the gold mining industry. Small scale gold miners use a large quantities of water and a variety of chemical products to retrieve gold from the soil. The effluent water is contaminated and flows back into the environment. The IRSAT-institute in Burkina Faso (l'Institut de Recherche en Sciences Appliqués et Technologies) developed a nature-based solution to retrieve the contaminants from the water and soil; phytoremediation. In Nimbrogo (Nahouri Province), the ECDD project is now piloting this technique and the national journals have reported about this.
The village chief gives his support to the pilot project in Nimbrogo.
'Search for co-financing' in the Dji'i Tiaman project, Mali
In March 2022, World Waternet signed a new 3-year contract with GWOPA, the UN-Habitat organization that manages the EU-WOP Program. Together with SOMAGEP, SOMAPEP and ONEE (Moroccan water utility) we have committed ourselves to 1) reduce non-revenue water in Sikasso, Kati and Koutiala and improve access to drinking water for 300.000 people and 2) assist SOMAPEP with finding co-financing for the Dutch financed DRIVE project that will result from the Develop to Build (D2B) study that is currently being executed. For this purpose, SOMAPEP and World Waternet organized a round table for donors during the 9th World Water Forum in Dakar. Our other Malian partner ANGESEM was also strongly present, as was the entire Malian water sector.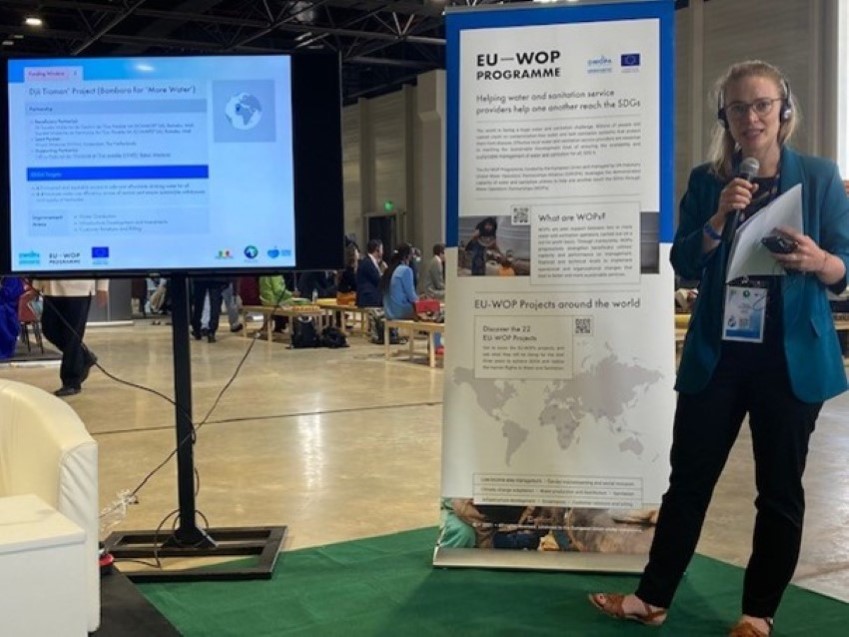 WWn participated in the EU-WOP session at the World Water Forum in Dakar in March 2022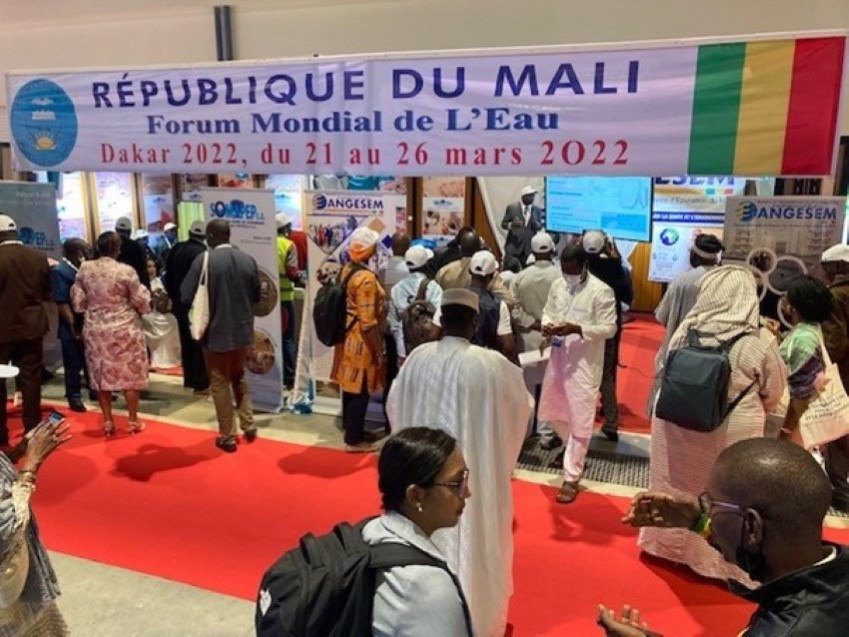 The Malian partners of WWn were well-represented at the World Water Forum in Dakar.
Lower Volta Basin Board inaugurated in Ghana
The Water Resources Commission (WRC) is our partner in the Blue Deal project in Ghana. Together with several other Dutch Water Authorities (DWA), World Waternet is supporting WRC through advising the existing Basin Board in the White Volta in the north and setting up of a Basin Board in the south of Ghana. In March 2022, the very first Basin Board in the lower volta delta was inaugurated: the Lower Volta Basin Board. In the presence of the Ghanaian Ministry of Water and Sanitation and DWA, 18 board members were formally installed. From now on, the Lower Volta Basin Board is responsible to take decisions on Integrated Water Resources management. A milestone for improved water management in Ghana, in which our Blue Deal partnership played a major role.
Blue Deal Ghana - Inauguration of the Lower Volta Basin Board March 2022 (YouTube)
Leaving Mali
And then, the end of our four-year stay in Mali is suddenly there. It was a dynamic period, of getting familiar living and working in a completely new environment. For myself, but also for our children, who were 4 and 6 years old when we left Amsterdam. Political turmoil, continuing security issues in Mali and the global COVID-pandemic disrupted our 'normal' lives even more. But the many positive aspects outweigh the challenges; meeting and working with a great number of dedicated and motivated Malian colleagues; contributing to improving water management in a country that needs it badly; understanding just a little of how many people in Mali suffer from poverty but remain smiling and kind; experiencing Malian music, culture and climate. Throughout all these years, World Waternet provided great confidence and support where and whenever needed. A crucial precondition to make this happen.
The cooperation with our partners SOMAGEP, SOMAPEP and ANGESEM will continue. Janette Worm will take over my role as regional manager West Africa, while Eleanor Treadwell (Resident Program Manager) and Arnout van Balen (Young Expert) will continue to present World Waternet locally (in Mali). Also our WOPs in Ghana (with the Water Resources Commission) and in Burkina Faso (with the Agences de l'Eau) will continue as before.
I look forward to return to the Netherlands and continue my work within the in Dutch water sector. Waternet has so much to offer still, that I look forward starting a new position at the Amsterdam head office!