Koen@Bamako #14 Political Turmoil
An update from West Africa
11 March 2022
Koen Maathuis works for World Waternet as regional manager for West Africa. He lives in Bamako, Mali and writes blogs about his experiences. Read about the continuation of the WaterWorX project, our partnerships with SOMAGEP, the Malian drinking water supply organisation, and ANGESEM, the Malian waste water organisation, and the unstable political situation.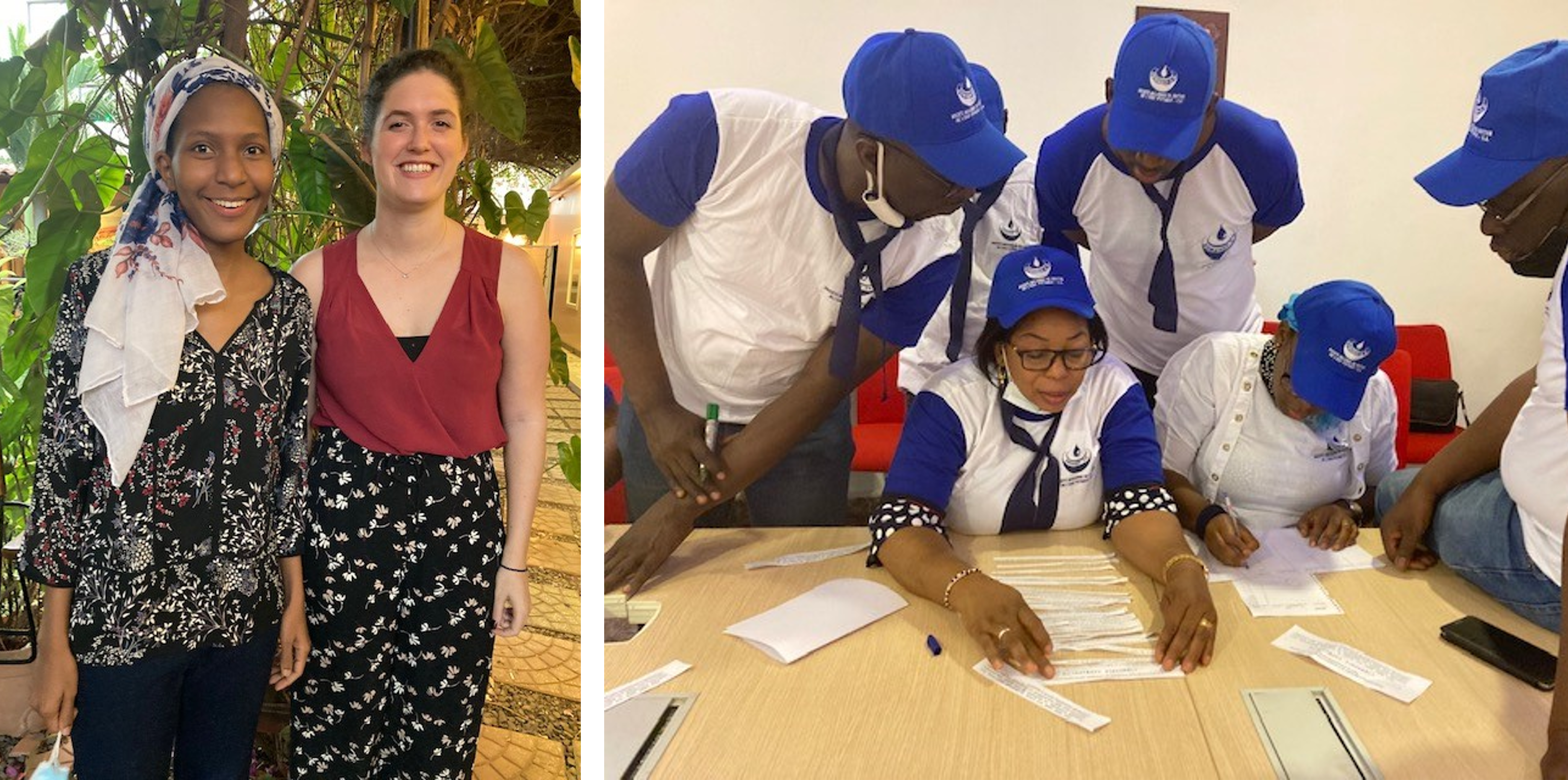 Left: Young Experts (Young Experts Programme) Hadi Toure and Ruth Wijland during their leaving event, marking two years of YEP. Right: Team building event of the WaterWorX team at SOMAGEP's office.
WaterWorX programme
After four years, in December 2021, the first phase of the WaterWorX programme has come to an end. The programme has contributed enormously to our Water Operators' Partnership with SOMAGEP (), the national drinking water supply company in Mali.
What is the WaterWorX programme?
The Dutch water utilities and the Dutch Ministry of Foreign Affairs engage in a long-term collaboration from 2017-2030. The programme, named WaterWorX, has the overall goal to contribute to improved water and sanitation services in selected cities in Africa and Asia. It has a long-term perspective and aims to provide either first-time basic access or improved service levels for 10 million people by 2030. On November 30 2021, the Dutch Ministry of Foreign Affairs announced the granting of its contribution to the second phase of WaterWorX (link to article, Feb 2022)
Activities of the partnership were able to reach over 350.000 people in Mali with first access to drinking water in their homes. In cooperation with SOMAGEP and SOMAPEP (asset owner company) we were able to finance 5000 new connections for the poorest households in Bamako and other major cities in Mali. Our project also managed to find good synergies with other investment initiatives of the cooperation between SOMAPEP and the World Bank, with whom we executed capacity-building activities ( increasing the efficiency of providing new connections) and executed promotion campaigns.
A final sprint in the last quarter of 2021 enabled us to achieve the goals for the first phase of WaterWorX (2017-2021) and develop the implementation plan for the second phase (2022-2026). For maximum support, the new management of SOMAGEP was closely involved in the formulation of this proposal. Also, SOMAPEP is now a formal additional partner in the consortium as we seek to intensify our activities around attracting financing for infrastructural development.
D2B Feasibility studies with SOMAPEP
Mid-December 2021 saw the launch of the tender for feasibility studies for 'Rehabilitation and Extension for Drinking Water Systems in Secondary Centres' by Invest International (). It is the result of over three years of networking, connecting and facilitating. Through our embedded approach, where we keep office at our partners' premises, we can fulfil the essential brokerage role between our partner's needs and the offer of different financing sources in the Netherlands (and Europe). This is a nice example of how our Water Operators' Partnerships not only build capacity within water organisations, but can also play a key role in attracting investment financing for our partners.
International sanctions for Mali
After two 'Coups d'Etats' in 2020 and 2021 and the suspended elections in February 2022 by the military junta, the Economic Community of West African States (ECOWAS) () imposed new sanctions on Mali, including the closure of all borders. France largely supported the sanctions and Air France stopped flying to Bamako. In the last six months, we had to reroute via Istanbul to get 'home'. Since then, a new chapter in international politics has begun. Danish and Swedish troops were sent home by the Malian government and the French ambassador had to leave the country within 72 hours after the French Minister of Foreign Affairs insulted Mali's new president. Imported are now more expensive and international travel is more complicated.
Blue Deal project - Dji Don
Our partner ANGESEM () is also facing dynamic times. Waste water treatment is getting more and more attention in Mali and several waste initiatives have asked for the engagement of ANGESEM. The German development bank KFW is planning to construct a waste water treatment plant in the city of Kayes with ANGESEM as their implementing partner. Our Blue Deal team in Mali is now working with ANGESEM to prepare them for the implementation of this infrastructure project, focusing at the moment on improving the archiving system and tendering procedures.
In February, the two Ministers of Environment and Health visited several of ANGESEM's treatment plants in Bamako. They were informed about the current state of the waste water sector and expressed their commitment to take it to a next level in the coming years.