06 January 2020
Jora@Burkina Faso & Ghana
Since 2016, the Dutch water authorities have been collaborating with the five water authorities in Burkina Faso, within the "Faso Koom" project. From April 2019, Faso Koom has been included in the Blue Deal programme, the international programme of the Dutch Ministry of Foreign Affairs, the Ministry of Infrastructure and Water Management and the Dutch water authorities. The Blue Deal programme runs until the end of 2030 and consists of 17 partnerships in 14 countries. Together they strengthen the three crucial elements of good water management: sufficient knowledge and expertise, a well-functioning water organisation and cooperation with key stakeholders. Faso Koom aims to build capacity at the young regional water authorities in Burkina Faso. Together, we work on water quality monitoring, water management plans and setting up local water committees. In addition, we work on integrated water management of small-scale gold mining, which has led to the sub-project called 'GIRE-OR'.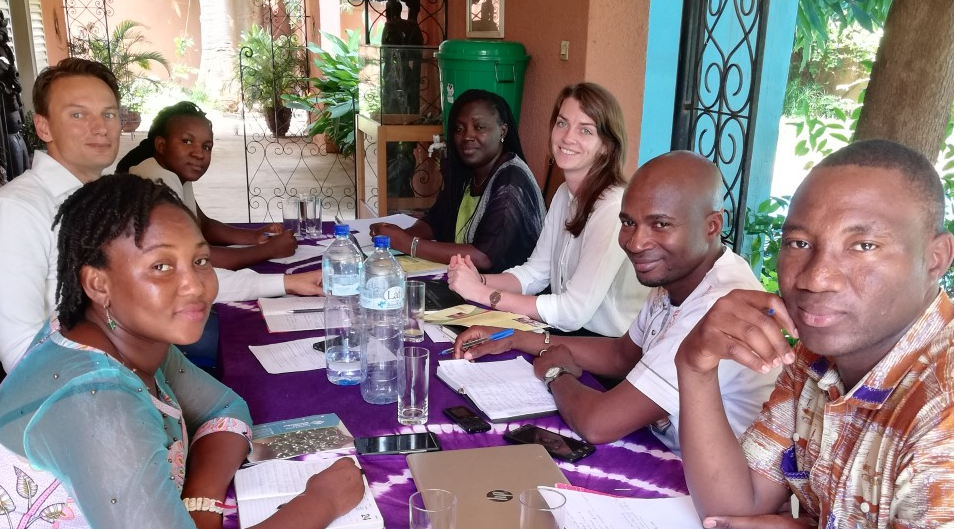 Gold and water
Gold has become Burkina Faso's key export product, accounting for a high percentage of the country's total export revenues. Gold mining is a source of income for around 1.3 million small-scale gold miners in the country. While larger companies are more likely to adopt best practices, the many artisanal small-scale gold miners often use more harmful chemicals and do not purify or reuse the groundwater that is pumped-up from the mine shafts. This is not a sustainable situation in view of the high dependence on scare surface water and groundwater for drinking water and irrigation.
The gold project: GIRE-OR
GIRE-OR (la Gestion Intégrée des Ressources en Eau en relation du secteur aurifère) is a sub-project of Faso Koom. With GIRE-OR we aim to limit the negative impact of small-scale gold mining on the water system. In this project I work together with Vincent Oostenbrink, controller of World Waternet and Waterproef, and co-founder of the Faso Koom project. After several months of preparation and many French lessons - our first working trip to Burkina Faso was planned for the beginning of October.
First stop: Ghana
My first steps on African soil were in Ghana, which is often referred to as "Africa for beginners", because of its friendly people, unique experiences, and culture. In Ghana, a Blue Deal project has recently been set up and after a few preparatory visits a large team went to work there for the first time. Ghana also has an extensive gold mining sector and the local water authorities have requested to work together on protecting water resources from negative impacts of these gold mining activities. It was an amazing experience to work with Dutch water authority colleagues with various specialties from all over the Netherlands. I learned a lot!
The moment finally came to meet our Ghanaian project partners for the first time. We were meeting Adwoa Paintsil, Environmental Quality director of the Water Resources Commission (WRC) in the capital Accra. Prior to this meeting, communication had been very difficult. Even though the demand for collaboration comes from the WRC, extensive discussions revealed uncertainty about what we could mean for each other within the project. This may be a matter of building time and trust. Fortunately, Burkinabé GIRE-OR activities went a lot better.

Blue Deal team Ghana, from left to right: Ton Boer (NBWB), Suzanne Oostra (Aa en Maas), Carel Nobbe (Aa en Maas), Marjolein Rozemeijer (Aa en Maas), Bertho Bulthuis (WDOD), Petra Kamsma (Aa en Maas), Inge Wesel (Brabantse Delta), Paul van Dijk (De Dommel), Jora Slinger (Waternet), Jaap Bos (Waternet), Erik de Bruijne (Waternet), Joop de Bijl (Aa en Maas), Vincent Oostenbrink (Waternet) en Elna Memelink (Aa en Maas).
Second part of the visit: Ouagadougou, Burkina Faso
The experiences in Burkina Faso were very different. From the moment you get off the plane you notice that the country is considerably poorer, coping with extreme heat and dusty, bad roads. The increased security measures dominate the streets at not only government buildings, but also restaurants and hotels are fenced with walls and barbed wire.
Zorgho gold mine
After meeting our first Burkinabé colleagues, we went on a field visit to the Zorgho gold mine. We first make a mandatory visit to the mayor of the village. He could describe very well how the miners are a major concern for him in terms of well-being and environmental issues. When I arrive at the mines, I am shocked. Reading articles about gold mining behind my laptop seems to be very different from seeing people (and children ..) struggling in the battered polluted moon landscape. I understood well why sustainable use of the water system is not their foremost concern. During our return trip, I exchange thoughts and ideas with other geohydrologists on how we can improve the situation. It is special to be able to find each other within a discipline beyond the boundaries of language, culture and continents.

Field visit to gold mine Zorgho.
Work ethos
The Faso Koom team members have worked together for many years and are well attuned to each other. The collaboration with the Burkinabé colleagues is going well and there is clear mutual appreciation. The work never really stops - from breakfast until late in the evening - there is consultation, collaboration, planning and preparation for the next day. Work sessions are even held in the weekend. On Saturday the directors of the Burkinabé water authorities meet with the Dutch project managers and on Sunday we work on a position paper and strategy. It is amazing to see the drive of the team!
We achieved many results for the gold project in only a few days. One of the most important moments was the initiation of a partnership between the Burkinabé water authorities and ANEEMAS, one of the ministries on mining. Both young government agencies were not yet in contact with each other and after the meeting they see many opportunities to work together. Definitely not a highlight for me personally, as I found it hard to follow the rapidly and formally French-speaking directors. After the meeting, I was happy to hear plans had been made for monitoring, permits, enforcement and knowledge sharing. A motivation to continue my French lessons for sure!
Another major achievement was formalizing the role of the water authorities in the gold mining sector in a position paper. With this we have clearly defined the strategy for the water authorities on how to minimize the impact of gold mines on the water system. We also formulated an internship assignment and recruited Yasmina, a hydrologist, to conduct literature and field research into water management on gold mining sites. We will use the results of her research as input for financing proposals for the implementation of pilot projects at the gold mines.
It was a great experience for me to be in Burkina Faso, to meet our Burkinabé colleagues and to see and hear that we all work for a common goal. During our 6-day visit, the groundwork has been laid for future collaboration.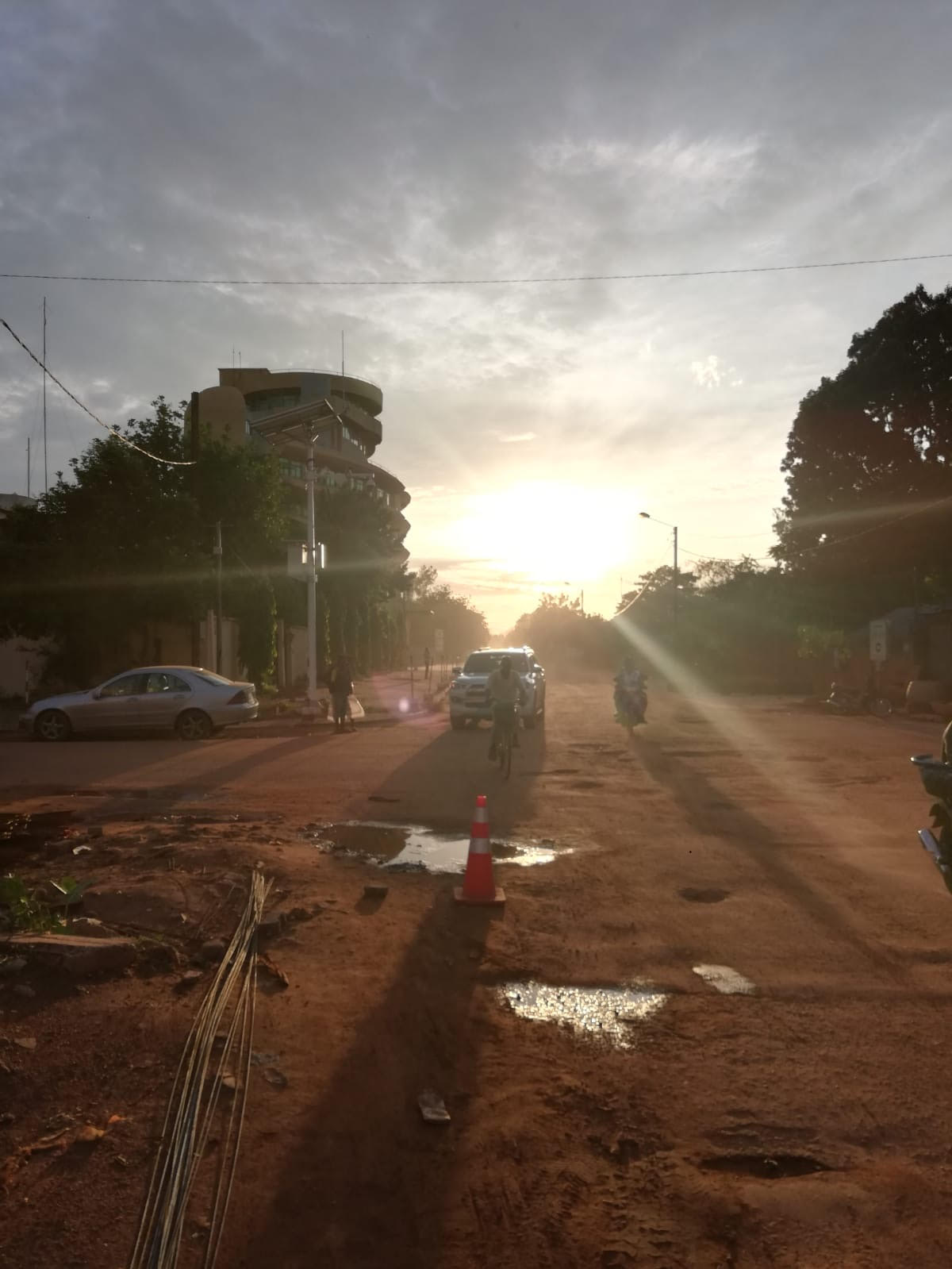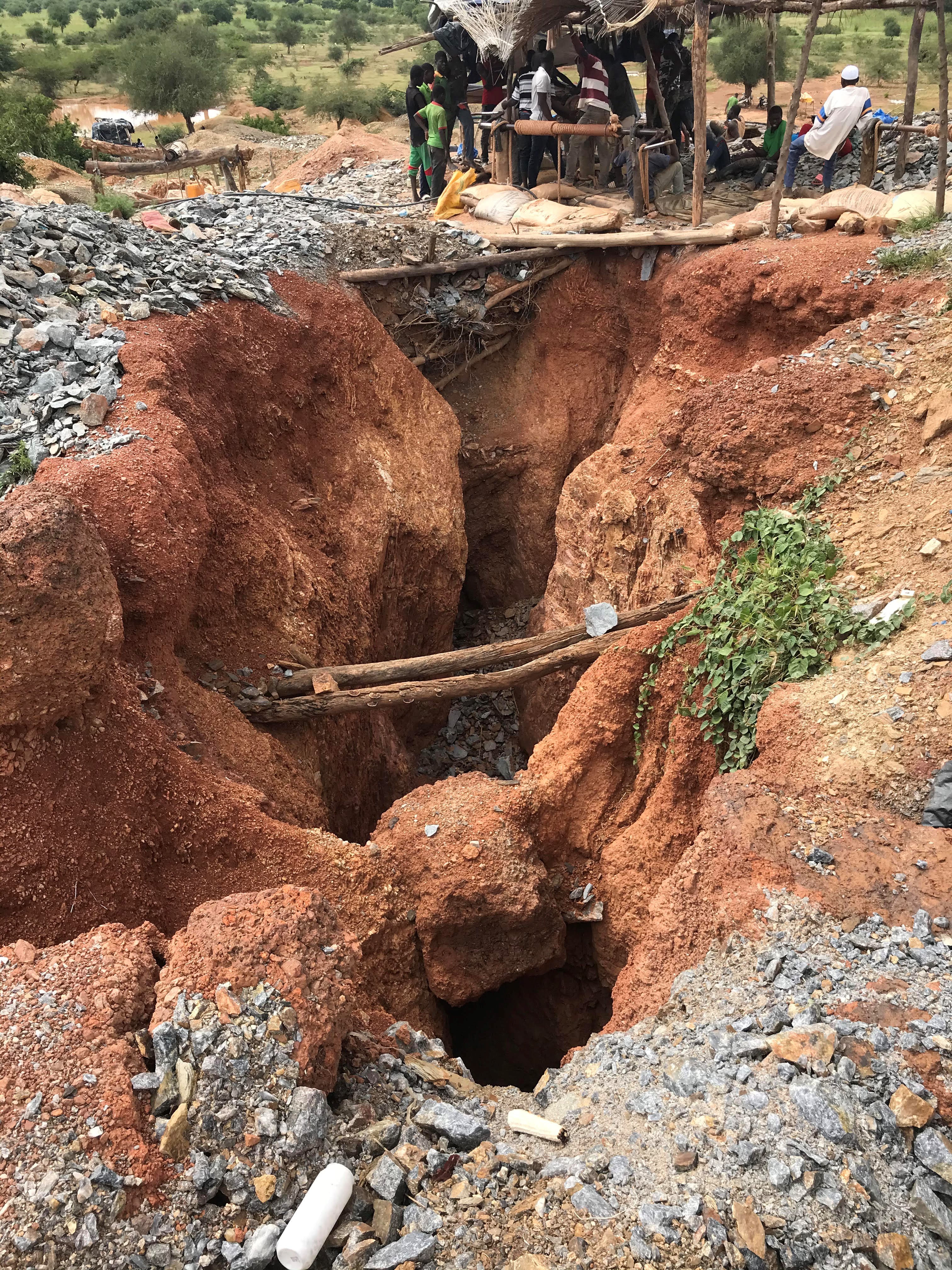 Left: sun set in Ouagadougou. Right: field visit to gold mine Zorgho.
Ouagadougou