We proudly announce the winner of the Sarphati Sanitation Challenge!
02 November 2021
After almost 200 years, the spirit of Dr. Samuel Sarphati is still alive and well, as entries to the Sarphati Sanitation Challenge were received from 31 countries. After a thorough selection process, several pitch-events and a nerve-wrecking wait, we proudly announce that the AKYAS Sanitation team is the winner of the 2021 Sarphati Sanitation Challenge!

Who is AKYAS?
AKYAS Sanitation () is a Jordan-based innovator of sanitation solutions for communities without access to sewage systems, such as refugee camps, city slums and informal settlements. Their winning solution is a toilet system which contains a wastewater treatment system in a bag. This simple and innovative toilet does not require water to flush and does not need to be emptied, while the sanitary powder inside it eliminates bacteria and odours and is made of compostable materials. With a bag at the core of their innovation, AKYAS has a range of complementary products that make their sanitation solution attractive for users and profitable for businesses. Their innovation provides a complete and circular solution and generates an additional financial flow by tapping into resource recovery, as human waste inside the bags can be turned into fertiliser and other valuable end products.
What did the Challenge look like?
In May 2021, World Waternet, Aqua for All and Accenture launched the Sarphati Sanitation Challenge, calling on entrepreneurs with a viable, scalable and locally-embedded sanitation solution to apply, in order to accelerate access to safe sanitation for all. The 2021 theme is 'Sanitation and Health', which highlights how entrepreneurial solutions are bridging key gaps and finding opportunities along the sanitation-health nexus.
We received 85 submissions from 31 countries. In June 2021, 10 semi-finalists were selected, and received expert training and tailor-made coaching from Accenture. In August 2021, each team presented their solution during a pitch-event at the Stockholm World Water Week () after which the Jury selected five finalists who continued the last bit of the journey. On 22 October 2021, a final pitch-event took place, including an interactive session with the Jury. The winner was selected on the same day and officially announced during the closing ceremony of the Amsterdam International Water Week 2021!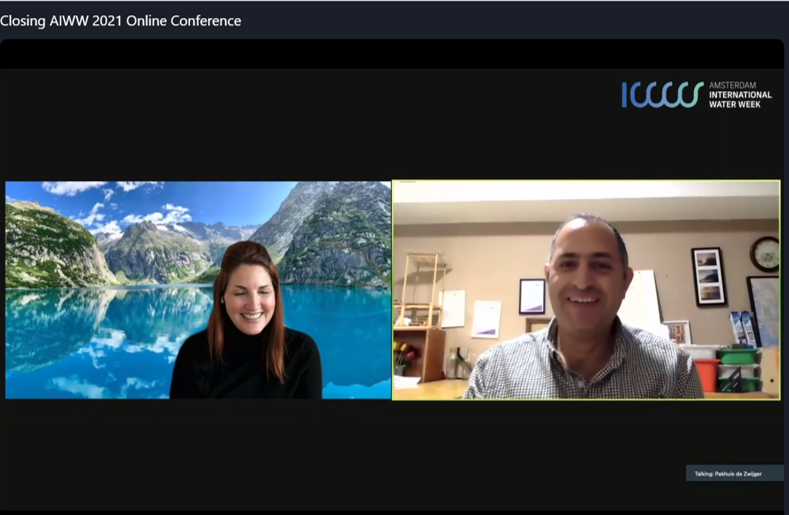 Bara Wahbeh (Founder of Akyas Sanitation) and Cheryl Hicks (Sr. Advisor at UN Global Compact CEO Water Mandate & Founding Partner Advancing the Sanitation Economy Infrastructure Partners, ASE INFRA) at the Closing Ceremony of the Amsterdam International Water Week 2021.
What's next?
AKYAS Sanitation will receive the catalytic grant of €100,000 to boost their solution, and additional support from Accenture in the journey of scaling their solution. However, we regard all participants as winners in our joint fight to ensure health, dignity and safe sanitation for all.
We would like to thank everyone involved for their hard work and dedication, and wish them every success in the important work they do. Keep on following us on our social media channels and see you again for the 2023 edition!
Get in touch: [email protected] ()